Welcome to Lighthouse Point (LHP) Grid it is a pleasure to be your host for the first hour of this weeks (16-11-16) Hypergrid Safari excursion. For my show and tell I will be showing two of the educationally focused regions on LHP. The first [LHP VW Basics] is a virtual worlds basics training and the second [LHP Awareness] is a project that I completed as part of my MA in Education in Virtual World at the UWE (University of the West of England), Bristol, UK.
A little about Lighthouse Point
Lighthouse Point is a project and a collection of regions (10 at this point in time) that are social, educational and community focused. There are two parts that make up Lighthouse Point:
[Lighthouse Point Grid] - is a set of regions aimed at providing a social and community area on the hypergrid for LGBTQI+ individuals and groups
[LHP Education] - this is a set of regions that focus on professional and educational projects
what are the aims of Lighthouse Point
The aim of the grid is to be a social virtual world for the LGBTQA+ community were they can find a range of resources and hopefully other organisations for support and community. The idea is to take the brick and mortar community charities outreach practices and see how they operate in virtual worlds.
A regular drop in
Social nights
LGBTQA+ specific regions
LGBTQA+ awareness training and consultation
Space for other organisations to be based on the grid
Access to other health, social and psychological professionals and services
LGBTQA+ focused health, social and psychological projects and initiatives (healthy lives, smoking cessation, sexual and mental health etc)
---
LHP HG (arrival region)
HG @ grid.lighthousepoint.co.uk:8002:LHP HG
This the main landing region for hypergrid visitors from the region you will find teleporters for you to use to reach the regions.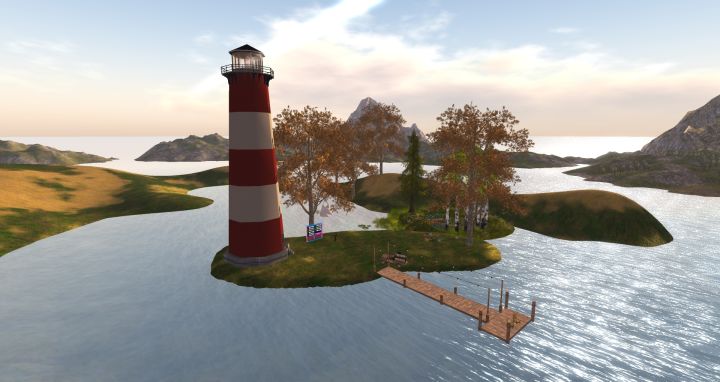 ---
LHP VW Basics
HG @ grid.lighthousepoint.co.uk:8002:LHP VW Basics
A micro skills activity based region for helping new Opensim users to learn the basics in a interactive group session (built for up to six participants and two facilitators working together).
This region was first developed as a research region (that became LHP Awareness) as part of my MA in Education in Virtual Worlds (Bristol, UK) after a change of direction I re-purposed the region as a VW Basics.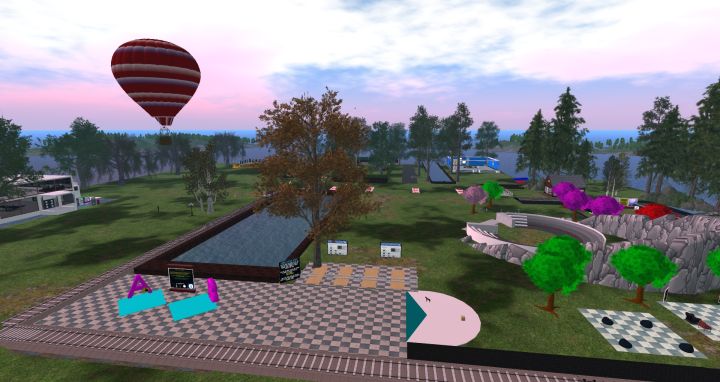 The aim of the region is to introduce new comers to the basics of virtual worlds; moving, interacting with objects, building and voice/chat communication. There are activities here specifically for counsellors. When creating the region I imagined online therapists using this region to familiarise themselves with virtual world basic skills. For example, the role play and the experiential/reflective exercise at the end.
The activities are:
Communication: private voice and chat (Getting to know each other)
Camera control activity
Object interaction: different types of sits (right click, chair icon on mouse hover, object menu)
Building basics: building a simple photo frame
Object interaction: flying machines
Communication: role play in pairs
Reflecting on the session with images
During the session the participants are encouraged to take pictures of their session. Using the photo frame from before the participants are asked to use the images as a way to guide their reflection on their learning.
---
LHP Awareness
HG @ grid.lighthousepoint.co.uk:8002:LHP Awareness
A fully developed virtual world educational experience aimed at bias and awareness training for counsellors, psychotherapists and their trainers. During my initial counsellor training I was amazed at how little sexuality and gender were mentioned. The region is a response to that and is aimed at post qualified therapists bias and awareness training.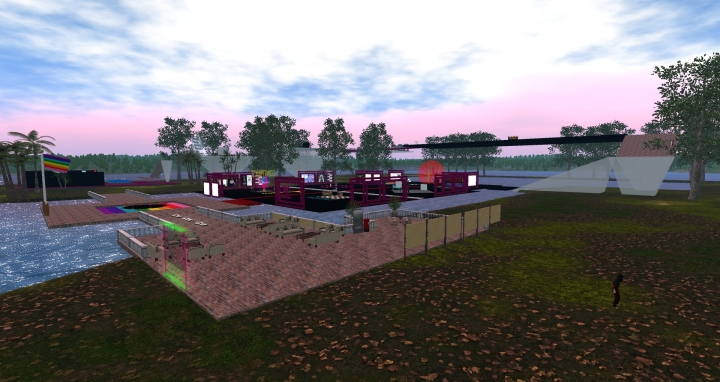 The extended project is an example of activity based, reflective and experiential learning aimed at fulfilling part of the CPD (Continuing Professional Development) requirements for BACP and UKCP members.
The region was built with the focus on different aspects of sex, sexuality and gender for therapists and their practice. The skills, knowledge and attitudes (Cross and Papadopoulos, 2001) required for working effectively and ethically with LGBTQIA+ individuals . The session will take the format as a facilitated (Killerman, 2016) guided tour (Kapp and O'Driscoll, 2010).
I decided that as the participants move through the different sections the interactive and learning elements will provide content for them to reflect on with other therapists. Each section is a reflective starting point and a non confrontational space. Sexuality and gender are deeply personal and this is reflected in the activities, giving the option earlier on the session to reflect on notecards.
The learning experience is divided into two sessions each lasting two hours:
Session one - knowledge and awareness
Activity one - Introductions
Activity two - Essentialism and Constructionism [self reflection and group discussion]
Activity three - queer and non binary lives and experience [group discussion]
Activity four - intersectionality - [small group discussion]
Activity five - interactive time line [whole group discussion]
Session two - research and practice reflection
Activity one - research awareness [small group presentations]
Activity two - client case studies [group presentation/discussion of case study]
Activity three - ethics and conversion therapies (UKCP, 2014; UKCP, 2015) [small group discussion]
Activity four - glossary team game
Activity five - learning reflection [whole group discussion]
Activity six - goodbyes and closing
As part of the process of preparing and building this region I started a website for my reflections of the process (visit the site here). On the website you can find out allot more information about the build.
I hope you enjoy your visit and you are more than welcome to return any time. All are welcome. If you would like to contact me please feel free to use the contact page (here) or friend me on Wednesday during the visit.
---
References
Cross, M., and Papadopoulos, L. (2001) 'Becoming a therapist a manual for personal and professional development,' London, Routledge Publications.
Kapp, K., and O'Driscoll, T. (2010) 'Learning in 3D adding a new dimension to enterprise learning and collaboration,' San Fransisco, John Wiley and Sons, Inc.
Killerman, S., and Bolger, M. (2016) 'Unlocking the magic of facilitation; 11 key concepts you didn't know you didn't know,' Austin, Impetus Books.
Pritchard, A., and Woollard, J. (2010) 'Psychology for the classroom: Constructivism and social learning,' London, Routledge Publications.
UKCP. (2014) 'Conversion therapy Consensus statement,'
Available: http://www.psychotherapy.org.uk/UKCP_Documents/policy/Conversion%20therapy.pdf. Last accessed 14th Nov 2016.
UKCP. (2015) 'Memorandum of Understanding on Conversion Therapy in the UK,'
Available: http://www.psychotherapy.org.uk/UKCP_Documents/policy/MoU-conversiontherapy.pdf. Last accessed 14th Nov 2016.